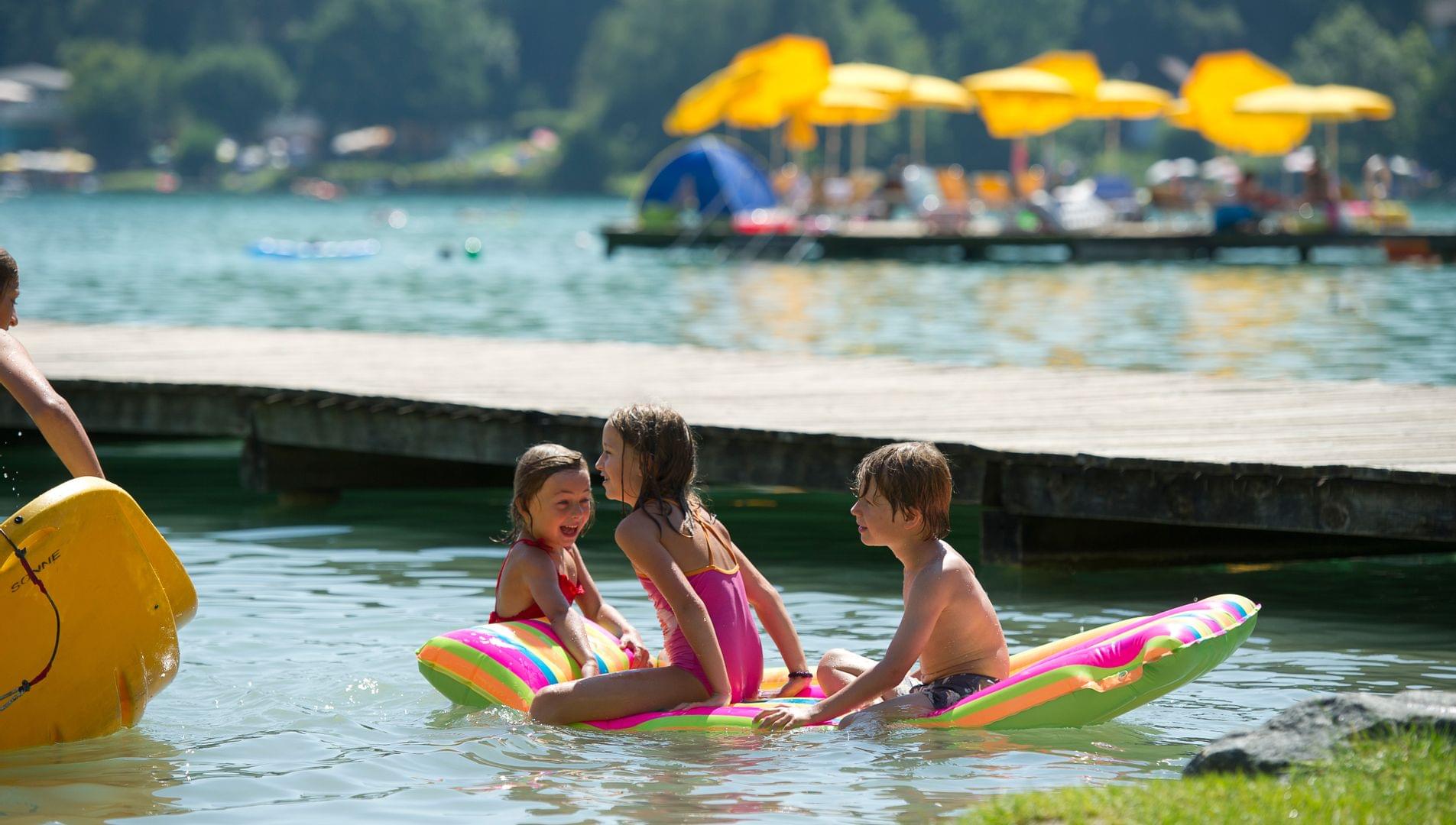 Water sports
Bathing fun included
Life is especially beautiful by a lake – and even more so by Lake Klopein! For although it is surrounded by mountains, it is the warmest lake in the whole of Carinthia. It captivates with a clarity and purity that you will be hard pressed to find in other places. The conditions couldn't possibly be better for an active holiday by the water. Here the bathing fun is "all-inclusive"!
Active in the water or submerged in thought:
on the go with a surfboard or fishing rod
But perhaps you would like to try something completely different? Then try out one of the many water sports such as kayaking, diving, excursions on a rowing boat – or you can get lost in thought as you let the fishing rod drift out into the water... Or maybe you've been itching to take a surfing course for ages? Simply give it a go!
In the evening, after all that exercise, refreshing Alpine climate and water sports, enjoy the Mediterranean flair of the lake promenade. Post-sport strolls by Lake Klopein – a perfect day comes to an end!
Floating on the splendid Lake Klopein – this is tantamount to a very special experience! Because long, leisurely tours in a kayak or on a pedal boat guarantee fun and enjoyment on the water. Our hotel's own boat hire service offers you a wide selection of boats with which you can set out on the water to discover the fabulous surrounding nature – and perhaps even exercise one or two of those muscles that haven't been used for quite some time.
Why not enjoy your holiday from the middle of the lake...
Our employees at reception will be more than happy to help you plan your boat tour. Your only task is to enjoy the water, sun, nature and the dreamlike panorama in the middle of Lake Klopein. <br/> <br/> Boat hire <br/> We lend out kayaks and rowing boats free of charge.<br/> Pedal boats cost 13 euros per hour.